Rabbi Robert Silverman Is One of South Florida's
Most Sought-After Jewish and Inter-Faith Wedding Officiants
Serving the Miami Beach, Miami, Fort Lauderdale, West Palm Beach, and Boca Raton Areas!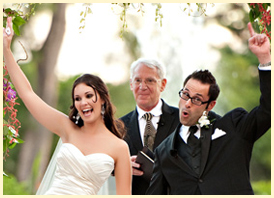 The essential elements of an interfaith-Jewish ceremony are inclusion and balance. Jewish or interfaith weddings are truly a reason to celebrate when two different people get together to form the most precious of unions.
Family and friends of each member of the couple should be included in the Jewish or interfaith wedding ceremony with respect and honor regardless of anyone's religious affiliation.
Most importantly, the couple should recognize all of the rituals offered at a Jewish or interfaith wedding as speaking to each of them. A double-faith marriage should be used to strengthen a couple's unification as a new family
Whether officiated by a Rabbi, Cantor, Justice of the Peace, entrusted friend, or co-officiated with a spiritual leader of another tradition, A Jewish or interfaith wedding ceremony can have a graceful and joyful flow that meets all of the vital criteria.
Rabbi Silverman will initially meet with the family to discuss your needs and desires, as well as help you with the elements you wish to include in your Jewish or interfaith wedding ceremony. After all, each Jewish or interfaith wedding ceremony that the Rabbi performs in South Florida is truly unique. One size does not fit all, and that extends from Jewish and interfaith weddings to commitment ceremonies.
Your Rabbi for Jewish Interfaith Weddings!
You have already envisioned and dreamed of the Jewish or interfaith wedding you wish to have. You also know you want your South Florida wedding to include some old traditions mixed in with modern elements. Rabbi Silverman will work with you and your loved ones to give you the Jewish or interfaith wedding of your dreams.
The Perfect Wedding Starts With the Right Wedding Officiant!