Services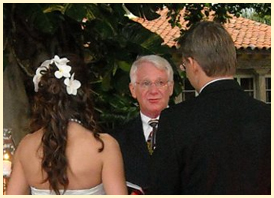 Rabbi Robert Silverman provides  a number of services to South Florida couples who are prepared to make the deepest commitment to one another. Regardless of faith or sexual orientation, Rabbi Silverman can help each couple through a thoughtful ceremony that honors both parts of the whole that is the marriage or union. He meets with each couple and their families if they wish in order to craft the beautiful occasion that is a symbol of the love two people have for one another.
Rabbi Silverman provides services to help each couple demonstrate their love and commitment to one another, including:
In each type of service, Rabbi Silverman is conscious of the fact that two people can find love across lines of faith or sexual orientation. Whether alone or with a co-officiant, he honors the love, the commitment, and the faith of each participant with a ceremony that is the perfect start for two people embarking on a life together. Couples may choose a traditional, structures ceremony or something more personalized that fits their tastes and is a reflection of their love for one another.