Rabbi Robert Silverman Is One of South Florida's
Most Sought-After Jewish and Inter-Faith Wedding Officiants
Serving the Miami Beach, Miami, Fort Lauderdale, West Palm Beach, and Boca Raton Areas!
Renewal of Vows for All Faiths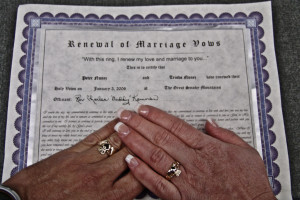 A life in marriage adds a new dimension to who we are. It is marvelous when two people make the commitment to spend their lives together and years later their love has grown in ways they could not have imagined when they first professed their love to one another through marriage long ago.
A Ceremony to Remember
For many of these people, renewing wedding vows is a way to begin anew and recommit to the love that they share and the unbreakable bond that they have chosen to make with one another.
Rabbi Robert Silverman can help couples who are interested in making a new commitment to their spouse. The renewal of wedding vows can be just as special as the moment they first said "I do," and Rabbi Silverman can help you create a ceremony that is the perfect celebration of the love you share.
The Perfect Wedding Starts With the Right Wedding Officiant!